The Ultimate Guide:
Table of Contents
Do I Need a Windshield Repair or Replacement?
It's no secret that the cost of a windshield repair or replacement can vary. This guide will help you make an educated decision on what to do with your windshield, so that there are no surprises. To learn more about windshield repairs exclusively, please visit our Windshield Repair Page by Clicking HERE! And when in doubt, don't hesitate to give us call at (952) 491-0505!
Anyone who has been driving long enough knows the sinking feeling of hearing a rock hit your windshield. Then afterwards, assessing the damage can be frustrating if you're not sure what your options are. If you notice a crack or chip in the glass, don't wait! Whether it be a windshield repair or replacement, you'll want to be sure to get it taken care of before the damage gets worse.
Can it Be Repaired? Or Does it Have to be Replaced?
A windshield cannot be repaired if the damage is larger than a quarter, or if the cracks are longer than three inches. So, if you have a small crack that can be repaired, and the damage is no larger than a quarter in size, then it will cost between $50 – $100 to repair your windshield. If there are any bigger issues with your windshield such as cracks longer than three inches or over an inch wide, AGSC safety guidelines state that a windshield replacement is necessary. If any of the following apply, a replacement is necessary.
A failed DIY Windshield Repair was executed.
The windshield crack is longer than 3 inches.
The damage goes through both layers of glass.
The windshield damage is too close to the edge of the windshield to be repaired.
The windshield damage is directly in the driver's line of sight.
A Windshield repair was already made directly in the driver's line of sight and leaves distortion. Repair cost is then applied toward the full replacement cost.
What is Windshield Repair?
We're glad that you asked! the process of repairing your windshield entails four main steps:
Drill into the pit to create an opening. Clean up the damaged/crushed glass in the rock chip with a drill.
Extract any moisture from rock chip.
Filling in the windshield crack: with (Delta Magnabond) resin and curing it with a UV light
Filling the pit: with UV cured (Delta Magnabond) resin and curing it with a UV light.
In most cases, windshield repairs are done on the spot at your location or we will come to you with our Glass Masters mobile repair van. Also, windshield repair is a structural repair, not a cosmetic one. It will still be slightly visible and is meant to last about two years. On rare occasions, a repair simply won't take. But don't worry, Glass Masters will transfer the cost of the repair to the replacement. If a glass repair causes cracks or chips in other areas on the windshield (known as "cracking out"), we'll transfer all fees over for an even better deal! Just call us and ask about our warranty program today.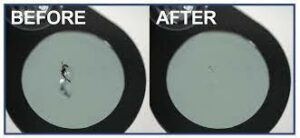 The advantages of repairing your windshield:
The cost is much less than a replacement.
You don't need to wait for a new windshield – it can be done while you wait.
The disadvantages of repairing your windshield:
You will still be able to see the spot where the windshield was repaired
The repair will only last about two years; at which point you'll need to have it replaced.
Windshield Replacement
Average installation times vary, but typically take between 45 minutes – 2.5 hours, depending on the vehicle. And thanks to 'Dow's' Xpress30 urethane, we offer a 30 minute drive off time! To learn more exclusively about replacements, please visit our Windshield Replacement page by Clicking HERE. Customer's not paying through insurance will often opt for a full replacement due to the age of the OEM glass and affordability. Call us at (952) 491-0505 and ask us what options may be available to you!
A windshield replacement is necessary when a repair is not possible, several reasons aforementioned. And if any of the following apply to your windshield, you will need a replacement:
The chip measures more than the size of a quarter.
The length of the crack exceeds three inches.
The crack lies in the line of vision of the driver.
There are multiple chips or cracks.
A failed DIY Windshield Repair was executed.
Damage goes through both layers of glass. (Windshields are made of laminated glass which means that there are actually two layers of glass; each heat-compressed with a thin layer of plastic between them. This is why when something hits your windshield it doesn't shatter.)
The windshield damage is too close to the edge of the windshield to be repaired.
A Windshield repair was already made directly in the driver's line of sight and leaves distortion. Repair cost is then applied toward the full replacement cost.
What is the AGSC?
(AGSC) stands for Auto Glass Safety Council. The Auto Glass Safety Council (AGSC) is a not-for-profit organization dedicated to the safe repair and replacement of auto glass. The AGSC was founded and is supported by companies in the auto glass repair and replacement industry that keep safe repair and replacement as their primary goal and is an accredited American National Standards Institute (ANSI) standards development organization. It has developed and continuously maintains North America's only auto glass replacement standard, the Auto Glass Replacement Safety Standard (AGRSS™) ANSI/AGSC/AGRSS 004-2018 which addresses procedures, education and product performance. Through its National Windshield Repair Association (NWRA), it is also developing the Repair of Laminated Auto Glass Standard 2 (ROLAGS™ 2) which addresses procedures, education and product performance relating to auto glass repair.
A windshield replacement should be done by a professional who is trained to do so and has all the necessary tools on-hand. A windshield repair, however, is not as time intensive or costly, but it still requires a qualified technician with access to proper equipment such as resins, injectors & evac tools that are up to industry standards for safety reasons.
Windshield Repair or Replacement – What Will it Cost?
The cost of repairing a windshield usually ranges from roughly $50 – $120 whereas replacing a windshield varies; depending on the location, auto glass shop and type of vehicle. But as a general rule, you should budget about $250–$350 to get your old one replaced by an AGSC certified installer. If you have an ADAS system that needs recalibration it usually costs an additional $275–$400. However, not all vehicles are equipped with this feature and certainly not older vehicles.
What is ADAS Calibration & Recalibration?
(ADAS) stands for Advanced Driver Assistance System. It's a series of sensors, cameras and computers that help to keep you safe on the road by sometimes taking over control or providing warnings when needed. If your car has an ADAS then it will need recalibration after any windshield replacement is performed to keep things in alignment and keep you traveling safely.
How Will I Know if My Vehicle Needs ADAS Recalibration?
A light will come on warning the driver that the ADAS needs to be recalibrated. If you're unsure then don't hesitate to contact your manufacturer or a qualified technician. It is not safe to operate your vehicle with the ADAS out of alignment! To learn even more about ADAS, visit out ADAS page by Clicking HERE! Ask about our on site recalibration service when scheduling your windshield repair or replacement appointment.
Utilizing Your Auto Insurance Coverage
Filing an auto glass / windshield repair or replacement claim can take as little as five minutes. The customer always has the option to call their insurance provider directly to file their claim. Have your policy information handy and simply tell your provider you "want the work done at Glass Masters in Saint Bonifacius", and they'll contact us, usually the same day, with an approved work order. More often than not, customers prefer we reach out to their insurance company on their behalf, which is perfectly fine with us! We will first need to collect some basic information, including the vehicle's year, make and model, as well as the policy holder's name, address, and policy number. We will then call the insurance company for authorization and while on the phone with them, we will call you and then merge all parties into a three way call. This allows the insurance company to give us authorization to perform the windshield repair or replacement for you. This is a legal requirement for authorization of payment from any insurance provider and we will not perform services without it, pending payment.
Due to the Covid-19 Pandemic, insurance auto glass claim authorizations can take up to a week. However, we can proceed with your windshield repair or replacement without an insurance approval if customer is willing to accept charges upon an insurance non-approval.
Will My Insurance Rates Go Up if I Get My Windshield Repaired or Replaced?
The cost of windshield repair or replacement is almost always covered by your insurance company, and with Minnesota's fluctuating climate affecting much of our auto glass, most drivers end up needing at least one windshield repair or replacement in their lifetime. Most client's do not have a deductible and rates are unaffected by these claims. The only time that you may see an increase in insurance rates after having a windshield repaired or replaced, is if you have had multiple glass claims on the same vehicle in the same calendar year. Regardless, we always recommend checking with your insurance company to find out what exactly they will cover before you go ahead with your windshield repair or replacement.
Will My Insurance Cover ADAS Recalibration?
Yes, the entire windshield replacement and the recalibration of the ADAS cameras / sensors will be covered by your insurance company. The only cost that the customer has to pay out of pocket is the deductible on their policy, if they happen to have one.
How Much is the Deductible on Autoglass in Minnesota?
Minnesota is a $0 deductible state, which means that if you have windshield repair or replacement coverage, the insurance company will likely cover everything. On occasion, a deductible may be applicable, but deductibles are usually assigned to newer vehicles, and often unbeknownst to the policy holder until they file a glass claim.
Setting Up An Appointment
Once you've set an appointment for your windshield repair or replacement at the location of your choosing, our mobile technician will call you to confirm the appointment when they are on their way. The technician might need to have you sign some paperwork before the work starts. You'll receive a call again when they're done with the installation or repair to let you know that the installation was completed successfully.
After the Technician Leaves
Windshield crack and chip repairs are ready to go as soon as the technician is finished. Windshield replacements, however, need to sit for 30 minutes before they are driven. Because when a vehicle gets into an accident the airbag will deploy against the windshield, and we need to make sure that it is bonded well enough to protect you from injury in case of the unexpected. Glass Masters uses DOW Xpress30 urethane, which has a 30 minute cure time. After 30 minutes you will have a factory strength seal. Rain is fine, even heavy rain, but do not use the car wash for at least 48 hours! This is due to the detergents, varying temperatures and high pressure.

FAQ
When can I remove the tape off my windshield?
The tape is only there to position the windshield. So, if you can drive the vehicle you can remove the tape.
How long does windshield repair take?
Windshield repair is done in about 30 minutes and vehicle can be driven off immediately.
How does windshield replacement work?
Windshield replacement is for the whole window and takes about an hour to complete. It includes removing your old glass, cleaning the bonding area, applying new urethane, replacing with a new windshield and reassembling the vehicle.
Can I do my own windshield repair with a DIY kit?
We would advise hiring a professional because if the repair attempt fails, you will need to replace the whole windshield.
What happens if my vehicle continues to leak after my windshield replacement?
Sometimes it isn't the glass that is leaking. Did you inform the replacement technician of the leak prior to the windshield replacement? Oftentimes, the seal on roof attachments can wear out. (Example: Bluetooth antennas) Or the sunroof drain may be clogged. Whatever the case, let us know! We can fix it!
Windshield Rock Chip & Crack Repairs – Starting at $74.95
Call Today (952) 491-0505