Contrary to any notions you may hold about about mobile windshield replacement during Minnesota winters, it is a service we provide! And when it comes to winter windshield replacement, we want our customers to be able to understand their alternatives as simply as possible. There are a few different things to consider when it comes to these frigid, yet beautiful winter months in Minnesota, so let's get started.
First, Mobile Windshield Replacement is by far one of our most popular services as it allows you to replace your windshield from the comfort of your home or office.
Second, Mobile Windshield Replacement is performed on site by one of our Mobile Glass Masters technicians. Our Glass Masters Technicians will arrive at your location with all the necessary tools to quickly replace your windshield and restore your vehicle back to pre-accident condition.
Third, Glass Masters only uses the state of the art Dow Xpress30 High-Modulus, Non-conductive urethane. This urethane that is used to adhere your windshield and other auto glass will cure all the way down to 0 degrees providing you with an OE quality seal every time!
While Minnesota winter temperatures can drop well below zero, as long as it is above 15f degrees, our technicians can and will perform the replacement. Chip repairs can tolerate temperatures as low as 0f.
Three things that will prevent your windshield replacement during the Winter in Minnesota are: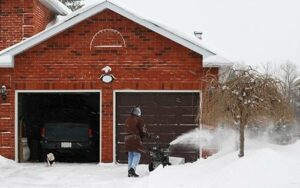 Temperature – if it is below 15f degrees, our technicians may ask if you have a place to get the car out of the cold for the replacement.
Inclement weather – If it is lightly snowing outside that won't stop us from performing the replacement where the car sits. But, if it is snowing heavily or a blizzard, we will definitely need to get the car under some shelter to perform the windshield replacement.
Shelter (ideally heated) – If it is one of those wonderful Minnesota blizzards or it's too cold and you don't have a garage available, our technician may ask to reschedule the job for a more ideal day.
In addition to Mobile Windshield Replacement being a popular service, it is often covered by your insurance company. So whether you have full coverage or just the state required minimum, this service may be at no cost to you! If you would like to inquire if your auto glass replacement is covered under your insurance, feel free to call one of our Glass Masters CSRs and they can help you to find out. And if it isn't covered, we are always happy to provide you with a competitive cash quote.
Minnesota Winter Windshield Replacement Guarantee
ALL Mobile Windshield Replacements are guaranteed for the lifetime of your car or truck, as well as any manufacturer defects. Mobile Windshield Replacement is a state-of-the-art process that will ensure fast, accurate and convenient Mobile Auto Glass Service.
If you would like to know more about Mobile Windshield Replacement, Mobile Auto Glass Service or to schedule Mobile Windshield Replacement, feel free to call us at (952) 491-0505 . We look forward to hearing from you and will confirm the date and time of your replacement appointment shortly thereafter.
Glass Masters proudly serves the Buffalo, Chaska, Chanhassen, Cokato, Delano, Eden Prairie, Glencoe, Hutchinson, Maple Plain, Mayer, Minnetonka, Minnetrista, Mound, Norwood-Young America, Orono, Victoria, Waconia, Watertown, and Winsted communities.
We also proudly work with Allstate, American Family, Farmers, Geico, Nationwide, Progressive, State Farm, Travelers, Liberty Mutual, Safeco & USAA insurance companies to address glass claims and windshield repair/replacement services!
Windshield Rock Chip & Crack Repairs – Starting at $74.95
Call Today (952) 491-0505
Visit Us On: Facebook, Twitter, Instagram, Youtube