OEM Auto Glass Misconceptions
Table of Contents
A common misconception is that OEM auto glass is better or stronger, because it was made by the original auto manufacturer. In actuality, most auto manufacturers don't actually make their own glass. They outsource the glass production and many other components of the vehicle.
See Example A & B both are Land Rover windshields and both are made by different companies. You can see the actual glass manufacturer for yourself, along with the glass DOT# in black etching in the bottom corner of the piece of glass.
Why Do Auto Manufacturers Outsource Their Glass Production?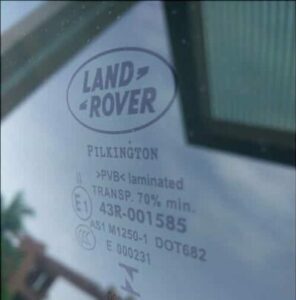 Glass production is outsourced often because large glass manufacturers are better equipped to produce a higher quality and more consistent product for cheaper. This makes auto manufacturers more money. The only difference between an aftermarket windshield and an OE windshield, is the OE windshield will have the logo for 4x the price.
What Do Glass Fabricators Have to Say?
The companies that fabricate OEM Auto Glass and Aftermarket AutoGlass, along with some who provide products to both markets, are cautious in taking a stand.
There is a wide separation between OEM and aftermarket parts, according to a Chevrolet glass engineer.
"Some are very good, and some are not very good," he said, referring to aftermarket products. "OEM Auto Glass, to me sets a very different standard on the parts. Because I cannot control the aftermarket, so I cannot say whether it meets OE standards."
Russ Corsi, an industry veteran who worked with PPG, a manufacturer and fabricator of auto glass, for many years, notes that some large glass manufacturers make both OEM and aftermarket products, so they have more tools in the arsenal for their products to be quite similar across both markets.
The Truth About OEM Auto Glass Quality
All auto glass has to pass DOT (Department Of Transportation) Standards. But, not all glass manufacturers are created equal. The 4 glass companies that we prefer are Pilkington, FUYAU, FYG, & PGW. All of which make OEM Auto Glass as well as OEE.
Usually when you call an auto glass shop, they'll do a general search for glass available for your vehicle and see many different options. Each glass shop will choose the part that they think is best, but Oftentimes top priority is getting the job by by choosing the cheapest glass, because everyone is worried about saving 10$. But not at Glass Masters. Here we always quote the best piece of auto glass for your car whether it's a windshield, door glass, or a back glass. We would rather lose a job to the lowest bidder than put poor quality auto glass in your vehicle.
Call Today (952) 491-0505
Visit Us On: Facebook, Twitter, Instagram, YouTube